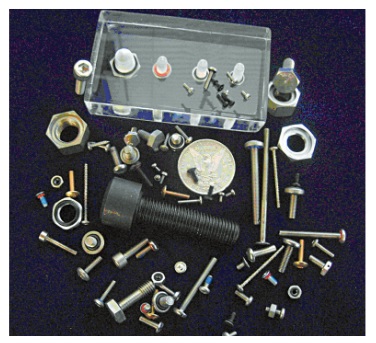 B&B Hardware, Inc. d/b/a SealtightTM Fastener provides the highest quality precision fasteners to aerospace and industrial customers throughout the world. Our design engineers continue to develop new fastener designs to meet the changing demands of its innovative clients. All SealtightTM Fastener products meet the ISO 9001:2008 and AS9100C quality standards. Additionally, SealtightTM Fasteners far exceed the specifications of the Military Standard 3212 & 3213 series of fasteners, including the Mil-S-82496A pressure testing specifications.
SealtightTM... Trusted by Industry Leaders!
SealtightTM Fastener is a quality, approved vendor for the leaders in technology - including HR Textron, JPL, NASA, UTC Aerospace, and Lockheed Martin. SealtightTM Fasteners can be seen in the world's most advanced product designs. Mars Rovers (Spirit, Opportunity & Curiosity), Kepler Space Telescope, Dawn Space Probe, Sidewinder Missle, Hellfire Missle, Deep Sea Submersible Rovers (Alvin, Jason, & Sentry), Automatic Insulin Injectors, Pneumatic Drills, Bone Saws and High Performance Racing Shocks are some of the many products which rely upon the quality of SealtightTM Fasteners. For additional companies who trust in SealtightTM, see our client short list.