SealtightTM is a trademark of B&B Hardware, Inc. who claims proprietary rights to all material disclosed on this website. All drawings and/or technical information are listed in confidence for engineering information only and may not be copied, reproduced, or used to manufacture anything shown or referred to herein without direct written permission from B&B Hardware, Inc. d/b/a SealtightTM Fastener.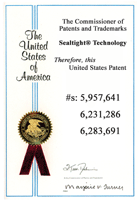 SealtightTM Fastener products featured on this website are patented products registered under P.N.s 5,957,641-- 6,231,286-- 6,283,691 with the United States Patent and Trademark Office. Any Person who shall use or claim as their own any product represented herein by a false or fraudulent declaration or representation, oral or in writing, or by any false means, shall be liable in a civil action for any damages sustained to B&B in consequence thereof.
Product photos shown on this website and/or in the Sealtight Catalog are used by permission of the manufacturer of these products, including Nasa, JPL, UTC Aerospace, QA 1, and other valued clients. Photos may not be copied without their prior written authorization.
Copyright © 2017 by B&B Hardware, Inc. All rights reserved. No part of this website or catalog may be reproduced in any form or by any means without prior written permission of the aforesaid. B&B Hardware, Inc. will prosecute to the full extent of the law anyone who violates any of the aforesaid rights.